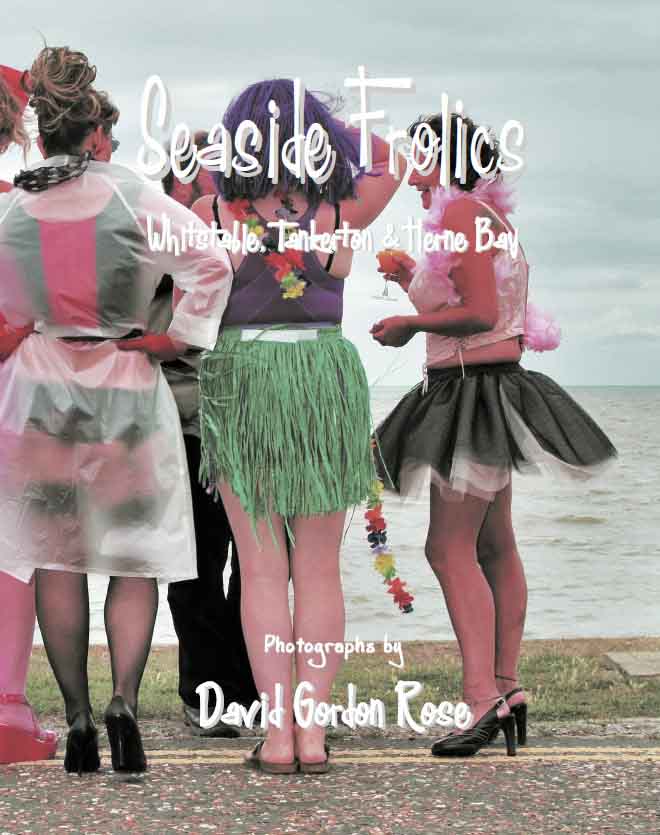 Seaside Frolics: Whitstable, Tankerton & Herne Bay

(2nd ed. 2018)
This was my first photography volume (2009) and was beautifully printed on art paper. It was launched at Harbour Books in the little harbour town of Whitstable on the North Kent coast. Even discounted to £19 it was too expensive. DFLs (those Down From London) are the scourge and life-blood of the town. They keep trade bouyant, at least during the summer months. Unfortunately, they also want cheap souvenirs. It's a Post-war Eastenders' day-trip mentality.
Framing and selling photocopied prints was not a route I wanted to take for the many images I was building up while living in Tankerton and Whitstable. In the Summer of 2007 I did consider taking over a gallery in a tumbledown fisherman's hut on the sea wall. I might have survived a season. Another option was to sell postcard views in George's Mini-market on the High Street. They would only pay six pence per card (while charging from 12 pence upwards). They would have cost me five-and-a-half pence to get printed a thousand at a time.

Whitstable views are regarded as not having been bettered since the days of the town's photographer Douglas West and his father (up to the 1940s) and I thought it was time to look again. Many of my subsequent photographs were featured in local newspapers and included a two-page spread in the Whitstable Times and a couple of front page "scoops." The last copies of the original book stocked by the Tomic and Daly gallery in Whitstable have gone, along with the gallery in January 2016.

The book is now available in a second edition in my (as publisher) Collections series. It has almost double the number of pages, a different layout and additional pictures up to the Summer of 2018. Some of the pictures, streets at night, are now 'historic' with the many changes in the town in fifteen year

s.



I have little choice other than to go with Amazon's trade colour printing. It's not bad, though a glossy paper would be much better. It brought down the cost of a 161-page paperback to £17. The e-book is a facsimile of the paperback. It is a sizeable download, about 17 megabytes. It's always a matter of balancing the resolution so the pictures show without pixellation on larger screens (computer or tablet) while the file is not so large it is too expensive or impractical to download.



Click

here

for my publishing site or

here

for book details or

here

to see a .pdf sample of the first 19 pages. Buy it in

paperback

or

e-book

facsimile of the paperback through Amazon. Large format paperback (8"x10"), photography, full colour.



Here are four pictures from the book.




Image 27492 Contemplation
"You don't see Bhuddist monks very often in Whitstable ..." I said.

"... especially not eating chips and drinking cherry soda!" he retorted.

Image 1548 A Day Out by the Seaside
The Sydenham St Christopher's Hospice stand on Tankerton Slopes during Regatta Week 2004. The gentleman looked at me suspiciously as I took the picture but burst out laughing when he saw the result.

Image 24952 Sky Walker


Image 0181 Harbour Street and Sea Street, Whitstable